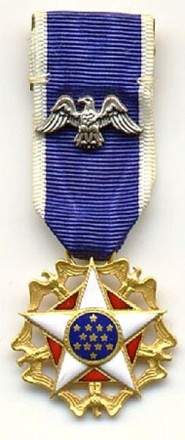 Well! This news is so wonderful, so phenomenal, that it has pushed my regular blog right off to next week!

In case you have not heard, Juliette Gordon Low has been chosen as one of this year's recipients of the Presidential Medal of Freedom! This is the highest award a civilian can earn in the U.S.
She will join a select group of people who are distinguished in their various fields–many of them known to us as heros and reformers, intelligent and brave souls who dared to challenge society's boundaries and by so doing moved us forward. Indeed, Juliette Gordon Low has done that.
President Harry Truman began this civilian award, but President John F. Kennedy renamed it and honed its intent in Executive Order 11085. The purpose was simply to recognize and honor citizens who made exemplary contributions to American "security or national interests," to "world peace," or to "cultural of other significant public or private endeavors." The award can be given posthumously. Usually it is bestowed upon a living recipient.
This year, Juliette Gordon Low will be joined by some extraordinary Americans–the recognition of whom I believe would really touch her. For example, strong women such as Dolores Huerta, the passionate advocate for the rights of Mexican-American laborers, who, with Cesar Chavez, began United Farm Workers of America, and Madeline Albright, the first female Secretary of State. And then there's the incredible Pat Summitt–the  best NCAA women's basketball coach who has worked so hard on behalf of women's sports and now Alzeiheimer's education. Think how Juliette Gordon Low encouraged her first Girl Scouts to play basketball, despite the stigmas against girls in sports and against girls competing.
Perhaps Juliette Gordon Low would be just as tickled to receive the Presidential Medal of Freedom alongside of pioneering astronaut John Glenn. One of the greatest thrills for Juliette was flying. She buzzed over the earth in some of the earliest powered airplanes and loved the entire sensation. How amazed she would be to think about Glenn orbiting the planet.
This is not the first honor Juliette Gordon Low has received, of course. A World War II battleship and a federal building (in Savannah) were named for her, she was featured on a postage stamp in 1948, and inducted into the National Women's Hall of Fame in 1979. This Presidential Medal of Freedom, however, is a signal honor, and one which I believe is entirely deserved.
Why?
Because only Juliette Gordon Low could have created the Girl Scouts. It was her specific life experiences–her upbringing, her education, her marriage, her near-divorce, her work with the poor–and her unique personality that made her appreciate Robert Baden-Powell's program and act on it in the way she did. Even today, the Girl Scouts of the U.S.A. holds dear many of Juliette Gordon Low's core ideals. She created the single most important organization for girls and women in this country. Period. Bar none. The positive effect that Girl Scouting has on girls and women is incalculable—as are the benefits that Girl Scouts have had (and continue to have) on this nation. And yet Juliette Gordon Low is, as I have been telling audiences all over, almost completely left out of the historical record.
Surely the attention of the centennial of Girl Scouting, Ginger Wadsworth's and Shana Corey's new books for girls and my new biography for adults, the savvy work by GSUSA CEO Anna Maria Chavez, and now this tremendous honor of the Presidential Medal of Freedom will return the spotlight to Juliette Gordon Low, who so richly deserves it.
Click here for the White House press release, and short biographies of all the 2012 Presidential Medal of Freedom recipients.
_________
Photograph of the Girl Scouts in Savannah thanks to the Juliette Gordon Low Birthplace, Savannah, Georgia. Photograph of the medal from wikimedia. Photo of airplane from bukagambar.info.