Louise de Koven Bowen was one of Chicago's most influential and important women. Born into wealth, Bowen dedicated her life to helping the city's poor. She was a friend of Jane Addams and a major financial backer of Hull House. Because she was a leading Chicagoan, she also knew members of Chicago's founding family, the Kinzies. They all attended St. James Episcopal Church. When Daisy Low sought to encourage Girl Scouting in Illinois, her mother, Nellie Kinzie Gordon, suggested that she contact Louise de Koven Bowen.
Daisy and Louise were of the same generation. Daisy was born in 1860 and Louise was one year older. Daisy attended various schools as a girl, but Louise graduated from Chicago's Dearborn Seminary. The girls probably met in 1884—if they had not met earlier—when the de Koven family sojourned at the Gordon home in Savannah. (1)  In 1886 Daisy married William Mackay Low and Louise married Joseph Tilton Bowen. The Lows settled in England and the Bowens remained in Chicago. The Lows had no children, but the Bowens raised two daughters and two sons in their large home on Astor Street.
In 1893, Daisy was trying—not always successfully—to smother her conscience and enjoy her pampered existence as the wife of an extremely wealthy playboy. That year was memorable for Louise, who answered the call to duty from her new friend Jane Addams. Louise Bowen joined the Hull House Women's Club in 1893 and led it for nearly twenty years. By 1896, the famous Chicago settlement house had become the main focus of Bowen's considerable talents and fortune.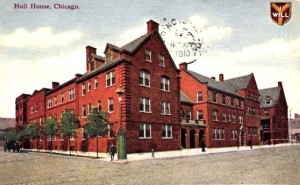 Modeled on London's Toynbee Hall, Hull House served working-class immigrants with a wide array of programs. From English classes to a savings bank to a nursery and kindergarten, Hull House became a beacon both for the underprivileged and for those hoping to ameliorate the lot of the urban poor. Louise provided the money for the Boy's Club at Hull House, a natural outgrowth of the concern she had first displayed for wayward children in her teens. Through her Hull House network, Bown helped to create awareness of the special needs of children for safe play spaces, better nutrition, and improved health care. She served as head of the Juvenile Protective Association for over three decades. In 1898, when Daisy Low was volunteering at a convalescent hospital for Spanish-American War soldiers, Louise Bowen was lobbying lawmakers to create separate courts for juveniles.
Daisy was widowed in 1905. Louise lost her husband in 1911, the year that Daisy became passionate about Girl Guiding in the U.K. In 1912, when Daisy brought Girl Guiding to the United States, Louise opened the Joseph T. Bowen Country Club, a summer camp for the children of Hull House.
Girl Guiding became Girl Scouting and grew apace under Daisy Low's leadership. Hull House hosted more than one Girl Scout troop, even though Jane Addams was initially a convert to the program of the Camp Fire Girls. Did Daisy and Louise work together on Girl Scouting at Hull House? It does not appear so. The de Koven Bowen Papers at the University of Illinois at Chicago do not contain correspondence that dates before 1929. Daisy Low died in 1927. Nevertheless, it is likely that their paths crossed at least occasionally and that they knew of each other's work in the 1910s and 1920s.
Daisy was in the Progressive Era reform movement but not of it. Her network was quite narrow compared to someone like Jane Addams or Louise Bowen, and it grew outward from her family connections rather than her professional ties. Louise's commitment was to bettering the lives of children on a broad array of issues through direct action, the legal system, and other civic and social reform efforts. Daisy concentrated her energies on girls and on Girl Scouting. Both women favored suffrage, but Daisy's support was muted while Louise joined the Illinois Equal Suffrage Association and ran for political office in Chicago. Daisy traveled frequently to spread Girl Scouting, while Louise published her message in a number of books such as Growing Up with a City, Safeguards for City Youth at Work and at Play, and Open Windows, and in pamphlets like "The Public Dance Halls of Chicago," "The Road to Destruction Made Easy in Chicago," and "The Colored People of Chicago: An Investigation Made for the Juvenile Protective Association." Louise Bowen outlived Daisy Low by three decades. She died at age 94, and just like Daisy, she was active and involved nearly to her last day.
Last week at the 52nd Biennial Girl Scouts Convention, I made the point that Daisy Low belongs in every U.S. social studies and history textbook. Currently, she's missing. Her absence is due to several factors, but one of them is because she was never part of the large network of women reformers during the Progressive Era, even though many of them worked on behalf of young people as she did.  Daisy built the Girl Scouts with the assistance of her family members, neighbors, and closest friends rather than connecting with women like Bowen, Addams, Florence Kelley, Alice Hamilton, Carrie Chapman Catt, Sophonisba Breckinridge, Alice Paul, Margaret Sanger, Lillian Wald, Ellen Gates Starr, Julia Lathrop, or Margaret Slocum Sage.  She did not move in the same circles as these recognized and famous activists because of her husband and his dislike of reform-minded women, her identification as a Southerner, the age at which she began the Girl Scouts, and her nearly exclusive devotion to Girl Scouting. (2) It is interesting to contemplate what might have changed had Daisy developed close friendships with Louise de Koven Bowen or other powerful female reformers, rather than running on a parallel track with them. At the very least, I feel certain that she would not have been left out of history textbooks.
______________
(1)  Juliette Gordon Low to Mary Carter Clarke, 29 July [1884], Clarke Family Papers, MS2800/22/3.  Cornell University, Ithaca, New York.
(2) There were Southern female reformers, of course, like Nellie Peters Black and Mary McLendon and even Rebecca Latimer Felton, but their causes did not as readily overlap with Daisy's, nor did they work with her in Girl Scouting.
First photo: Louise de Koven Bowen from University of Illinois at Chicago, University Library, Jane Addams Memorial Collection, Negative 392.
Second photo: Hull House from Old Chicago in Vintage Postcards.
Third photo: "Bowen Park Namesake Leaves Great Legacy," Chicago Daily Herald, 6 July 2010.
Fourth photo:  Juliette Gordon Low, Encyclopedia Britannica  Online.