This Mother's Day weekend seems an appropriate time to appreciate the adventurous spirit of Nellie Kinzie Gordon, Juliette Gordon Low's mother. There are many episodes that could provide an understanding of Nellie, as she was drawn to excitement as a moth to a flame–particularly as a young woman. In 1900, Nellie was 65 years old, and still embracing the moments. That year found her accompanying her beloved husband, Willie Gordon, to Paris. It was the year of the great Paris Exhibition. Nellie kept a diary. Here is what she did:
She enjoyed an "excellent dinner with capital wines–claret and champagne" at the famous Palais de Trocadéro, which you can see at the end of the avenue below.
Fond of fashion, Nellie went to have dresses made at a shop called Pidoux & Company. She noted in her diary that her evening dress cost $140.00 and a "tailor-made shirt" was $45.00. In today's money, the gown would be worth $3,870.00. (1)
Nellie saw two different shows at the beautiful Grand Opera. She heard Mignon, the comic opera, and Gounod's adaption of Shakespeare's tragic tale of star-crossed lovers, Romeo and Juliette.
Elsewhere, she saw the divine Sarah Bernhardt as Roxanne and Benoit-Constant Coquelin as Cyrano in Cyrano de Bergerac. The two toured in the United States later that year. Nellie had seen the two greatest French actors of her era, together, in one play.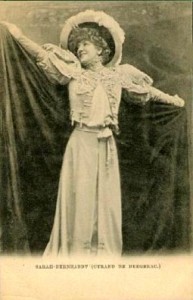 Nellie dined with Willie at the well-known Cafe Riche on Le Boulevard des Italiens and laughed out loud as her husband ordered "Diner par Dieu" — that is "Dinner by God!" rather than "Diner pour dieux," or  "dinner for two," as she recorded.
At the Ecole des Beaux Arts she lingered over the sculpture and the paintings–but not modern art. Nellie despised modern art and dismissed  a painting of "three horses heads…life size, painted a delicate sky blue" that she had seen in Munich.
And she took in the fabulous event, the talk-of-the-town, the great, exotic entertainer who grew up partly in my hometown of Monmouth, Illinois, Loie Fuller. Fuller, known as the "goddess" or the "magician of light," danced wearing voluminous material that swirled around her. Lights played on the costume as she swirled, and it was breathtaking to audiences of the time. Nellie found Fuller's dancing "graceful, but," she wrote, the "most effect was made by the arrangement of the colored electric lights," reminding us in 2012 that electric lighting was relatively new and exciting, too. (2) Watch this brief but amazing video of Loie Fuller doing her signature "Serpentine Dance:"
It was a heady time for Nellie Gordon. This is only a few of the many opportunities of which she availed herself. Paris was a cultural center then, as now, and Nellie was never one to sit in a hotel when she could be out investigating life and reveling in all of its extraordinary and wondrous aspects.
Luckily, to her daughter Juliette Gordon Low, Nellie Kinzie Gordon bequeathed this marvelous spirit.
______
(1) Calculation of "purchasing power" from measuringworth.com.
(2)  All of Nellie's quotes from the Nellie Kinzie Gordon Diary, 1900, Gordon Family Papers, MS318/12/129, Georgia Historical Society, Savannah, Georgia.
All photos from wikimedia except for the Cafe Riche, which is from http://paris1900.lartnouveau.com and Sarah Bernhardt, which is from http://shakespeare.emory.edu/postcarddisplay.cfm?cardid=472.