Juliette Low's good friend Abby Lippitt came from an old and distinguished American family.  In 1638 John Lippitt of Warwick, England, arrived in Rhode Island.  He bought one of the original home lots in Providence and was instrumental in organizing the colony.  Lippitt family members fought in the American Revolution, attended St. John's Episcopal Church, farmed the land around Warwick and Provincetown, and eventually became known for cotton manufacturing.  Lippitts built the third cotton mill in the state of Rhode Island in 1807.  Abby's grandfather, Warren Lippitt, spent nearly a quarter of a century as a sailor and a sea captain, before he married Eliza Seaman and joined the family business as a cotton merchant traveling between Providence and Savannah.   Henry F. Lippitt, Abby's father, was the child of Warren and Eliza.[i]
In 1848, Warren and his sons, Henry and Robert, partnered with some other businessmen and purchased Comfort Tiffany's mill on the Quinebaug River near what would become Danielsonville, Connecticut, and renamed it the Quinebaug Manufacturing Company.  When their father died in 1850, the Lippitt brothers purchased the Coddington Mill in Newport, Rhode Island.  Three years later, that mill burned to the ground, so they relocated their firm in Woonsocket, along the Blackstone River. Abby knew the Globe Mill well because she often took her friends on excursions to see the enormous and awe-inspiring sight of over 40,000 spindles and 900 looms driven by a huge 750 horsepower Corliss steam engine and three water wheels, all overseen by 500 employees.  The Globe was a five-story landmark, known for its brilliant white exterior and its 560 windows.[ii]
Abby's father Henry Lippitt was involved with more than just several of the great cotton mills in Rhode Island.  He was a veteran of the state's Dorr War and the Civil War.  He sat on the boards of directors of banks and important businesses and art associations.[iii]  His extensive professional network led to his successful attempt—as a Republican—to win the governorship of Rhode Island from 1875-1877.
Afterward, Henry Lippitt returned to trade, and in 1881, a local commentary claimed that his "annual business has never amounted to less than $300,000, and several years has exceeded $4,000,000."[iv]  If that was even near to the truth, then Daisy's friend grew up very wealthy indeed.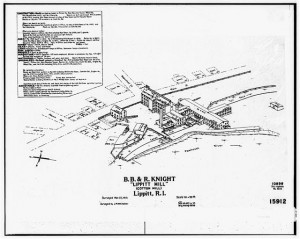 In 1856, scarlet fever took the lives of three of Abby Lippett's four brothers and rendered her sister deaf.  Their mother, Mary Ann Balch Lippitt, survived such crushing grief by sustained, hard work.  Left with Charles, Jeanie, and infant Henry, born in October, she turned the full focus of her attention to making sure that Jeanie would not be marginalized because of her deafness.[v]
In the mid-nineteenth century, provisions for deaf children were few.  They were separated from society and taught in asylums where they learned how to sign, but not to speak. Mary Lippitt believed that signing would divide Jeanie from her family and the rest of the hearing community. She determined that her daughter would talk. As there were only sign language teachers in the country, Mary set out to instruct Jeanie herself.  She embarked on a rigorous course of training to teach the child to read lips and use her voice. Slowly but surely, it began to work.  Once she achieved some proficiency, Jeanie attended school with other girls in her neighborhood where she excelled at spelling, math, and geography.
There were two other girls living near the Lippitts who had lost their hearing at the same young age, Fanny Cushing and Mabel Hubbard. The three families ultimately worked together to advocate what was called oral training at a time when the sign language promoted by Thomas Gallaudet was thought the only effective method of teaching deaf children. Their efforts culminated in the creation of the Clarke School for the Deaf in Northampton, Massachusetts, and the Boston School for Deaf Mutes, known today as the Horace Mann School for the Deaf and Hard of Hearing. Mary Lippitt also engaged the pedagogical services of a young Alexander Graham Bell, the son of a phonetics teacher who had an interest in lip reading. His experience with the three young women and others who were learning orally led him to open a School of Vocal Physiology in Boston, and to marry Mabel Hubbard.[vi]
While the work with Jeanie continued, the Lippitt family added four more children:  Mary (called May), Lincoln, Abby, and Alfred, who died in infancy. Abby thus was the youngest, but never the baby of the family.  That place at center stage was always occupied by Jeanie who had the lion's share of her mother's attention, and even the best bedroom in the beautiful Lippitt home on Hope Street in Providence.[vii]
Abby was much closer to May and Linc than to Jeanie, as the three youngest children grew up together and in the 1880s toured Europe together. Since they were a political family, Abby had an understanding of and an interest in current events to a much greater degree than her friends. Abby did share Daisy's fondness for arguments. When she was an adult, her new sister-in-law, Henry's wife Marian, was certain that the strident dinner conversation meant "the finish of our amicable family relationship."  She recalled that the four siblings "argued every question of the day, personal, national, and international down to the last inch.  'Harry, I don't agree with you.'  'May, your statement is incorrect.'  'Abby, you are quite mistaken.'  'Jeanie, your figures are wrong.'"  But as they turned in they all bade each other a cheery goodnight.  Marian concluded that "Lippitt arguments are a form of indoor sport.  A sort of whetstone on which to sharpen keen intellects."[viii]
Abby was a keen tennis player and golfer, ice skater and tobogganer.  She enjoyed the winter, hated to rise early, was an unwilling traveler, but most of all, Abby declared over and over again that she had no time for young men.[ix] Her friends laughed merrily about this, and Daisy dubbed her the Icicle.  Abby was not amused.  "Why do you insist upon calling me an icicle," she demanded.  "You know how demonstrative and gushing I always was and I assure you I have not changed in the least."[x]  Daisy believed that only Abby thought of herself as "demonstrative and gushing."  As Marian would later note, "New Englanders do not 'take on' much over anything or anybody.  They are just loyal and sure, and let it go at that."[xi]
……
Abby Lippitt Hunter, Mary Gale Carter Clarke, and Juliette Gordon Low met in boarding school and were friends to the ends of their lives. Many of you have asked for more information about Abby and Mary. What you just read is a section cut from my Juliette Gordon Low: The Remarkable Founder of the Girl Scouts that provides more information about Abby Lippitt. If some of it sounds familiar, it's because not all of it hit the proverbial cutting room floor.
If you live in New England, the best place to start to learn about the Lippitts is the Governor Henry Lippitt House Museum, located in Providence. I would like to thank publicly Susanna Prull of Preserve Rhode Island for her kind assistance with my research on the Lippitts, and for allowing me the use of the photos of Abby Lippitt in my biography.
There are other great stories about Charles Warren Lippitt, about Duncan Hunter (the man Abby married), and about Jeanie Lippitt–but in telling them, I'd  just about be starting on another book!  Feel free to write to me with your questions.
---