Katherine Keena is the Program Manager at the
Juliette Gordon Low Birthplace
in Savannah, and it was she who suggested to me that this summer, instead of taking a break, I should repost older blogs. Some of the oldest blogs, she thought, might not have the reached readers who learned of the blog more recently. Because I have benefitted from Katherine's wisdom in the past, I will happily follow her advice now. So, here is the first blog, from two summers ago, about Juliette Gordon Low's northern roots. I hope you enjoy these new-old Friday blogs. And as always, thanks for reading. For more information on most of these topics, please see my biography of Juliette Gordon Low.
*********
Daisy Low was a Southerner through and through, but she was shaped and formed by the North more than most Georgians of her time.  Daisy went to boarding school in New York City. Her two best friends lived in the north.  Her father's business interests took him frequently to New England.  But more than that, Daisy's maternal ancestors were instrumental to the founding of Chicago and to the creation of the history of the city's earliest days.
Daisy's mother, Eleanor (Nellie) Lytle Kinzie, was born in Chicago in 1835.  Daisy's grandparents (Nellie's parents) were Juliette Magill and John Harris Kinzie.  Daisy's great-grandparents were Eleanor Lytle McKillip and John Kinzie.  Kinzie had a complicated life and its outlines are not altogether clear from this point in history.  Among scholars, his star has fallen: he used to be known as the founder of Chicago.  Today, if he appears in histories at all, it is often as Chicago's first murderer.
John and Eleanor Kinzie have long been credited with having acquired the first house in Chicago, a cabin built around 1785 that they bought from a French Canadian trader in 1803. It sat in a bend on the north side of the Chicago River, just opposite Fort Dearborn.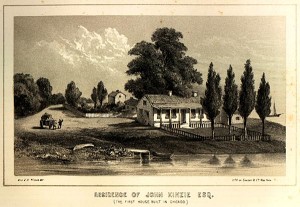 This was the perfect site from which to merge his old contacts among the Native American population and the opportunities presented by the new neighbors in the fort.  Kinzie was an entrepreneur, a jack-of-all-trades, with the felicitous talent of speaking several different Native American languages.
Mostly he traded—with the United States military at Fort Dearborn, with Native Americans throughout the Northwest Territory, and with any settlers he knew.  The commodities he bought and sold ranged from produce and furs to silver household items (that he, a talented silversmith made) and at least one slave.  Great-grandfather John Kinzie, though, had a secret life—or lives.  He may have been a spy for England, and then a spy for America; or perhaps a double agent.  There is no doubt that he did kill a man, a customer of his, probably for threatening to expose the bribery that underlay his contract with Fort Dearborn.  It also seems clear that the man came looking for him, and that Kinzie killed in self-defense.  The family liked to tell how Kinzie forever after tended the man's grave.
Eleanor and John Kinzie's daughter-in-law Juliette Magill Kinzie (Daisy's grandmother) wrote a memoir about growing up when Chicago was young.  It included the family's account of what was then called the Fort Dearborn massacre—a version that, like the life of John Kinzie, has been called into question by contemporary historians.  You can read her memoir, called Wau-bun, on line at the Gutenberg Project.  John Kinzie told his version of the Fort Dearborn battle to a colleague, and it was published in 1953.
Daisy was named for the grandmother who wrote Wau-bun.  Chicago became well known to her from visiting relatives.  She watched her mother ferociously protect the Kinzie legacy and support the elementary school named for John Kinzie.  Around Girl Scout campfires Daisy told thrilling tales of frontier life and how two of her relatives had survived captivity among the Indians.  Daisy Gordon Low may have identified as a Southerner, but her roots in the north ran deep.