She inspired Henry Wadsworth Longfellow. She was a friend of William Tecumseh Sherman, Elizabeth Barrett Browning, John Singer Sargent, Victor Hugo, Alfred Lord Tennyson, and Oscar Wilde. President Grover Cleveland, Gustave Dore and even her sublime colleagues Sarah Bernhardt and Ellen Terry came to see her artistry. Who was she? Helena Modjeska, Juliette "Daisy" Gordon Low's favorite actress.
"Whenever I see Modjeska," the 18-year-old Daisy rhapsodized, "I feel as if I wanted to be either a man or an actress.  If I was the former I would [court] her, if the latter I would imitate her." So entranced was Daisy after one of Modjeska's performances that she concluded sadly that her "happiest hours have been all spent," because there could be no joy on earth to equal watching Helena Modjeska act. [1]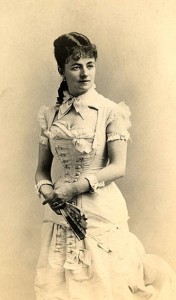 It was not just Daisy Low whom Modjeska moved to such heights of appreciation. In the 1880s and 1890s Modjeska was famous across the U.S. and throughout Europe. At a time before televisions and computers, Modjeska's portrayals of tragic heroines reduced awe-struck audiences to tears and touched their hearts and minds in the way only live theatre can. Modjeska's personal life was equal parts hard work and romanticism. Because of her unflagging Polish patriotism and her fondness for her adopted country of America she is celebrated today in both places.
She was born Jadwiga Benda in either 1840 or 1844 in Cracow, to Josefa Benda. Her father was muscian Michael Opid, or possibly the Polish noble Władysław Sangusko. At her baptism Jadwiga was given the name Helena. Like Daisy Low, Helena was a creative child. In fact, Daisy had much in common with her idol, despite the generation that separated them. Helena and Daisy both composed poetry, loved opera, bickered consistently with their mothers, sought comfort in nature, and loved camping. There is some evidence that both girls rescued a drowning child—in Helena's case, it was her younger sister. Both girls were shaped by civil war—Daisy's family was not nearly so adversely affected as was Helena's however. Cracow was part of the Austro-Hungarian empire then, and the poor fought for their rights in bloody altercations with the wealthy while Poles simultaneously battled for their independence. Helena was—probably as a result of the 1848 uprising—for a time homeless, "penniless and almost clotheless," according to an early biographer. [2]  When the family found a living space in Cracow, Helena read every book she could borrow, and by age 14 had written and performed—with her similarly creative siblings—in her first play. Helena's acting caused so great an emotional response in all who saw it that her worried mother forbade her to see any plays except those by Germans, because they were considered staid and not likely to excite Helena's imagination. Her mother was wrong. Helena's love for the theatre was overpowering, and she sought a career on the stage.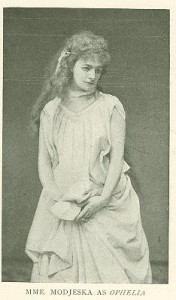 Helena married—or perhaps she did not legally marry—her guardian, Gustav Sinnmayer. Gustav ran an acting troupe and went by the name of Modrzejewski. When Helena made her debut on the Polish stage in 1861, she used his name, and thus became known as Helena Modrezejewska. Over time, she would shorten the name to Modjeska. Helena and Gustav had two children, but only their son Rudolph (later known as Ralph) lived to adulthood. At some point, the marriage floundered, and the couple separated.
In 1868, Helena married Polish nobleman and newspaper editor Karol Bożenta Chłapowski. Her new husband had been raised in France, and he chafed at the political restrictions imposed after the failed 1863 Polish nationalist rebellion. With his friend, the journalist Henryk Sienkiewicz, Chłapowski determined to move to what looked like the promised land of California to start a utopian society. Helena embraced the ideal image she had of a bucolic existence of a wife on the frontier. "What wild dreams we dreamt!," she wrote in her autobiography, "What visions of freedom, peace, and happiness flitted across our brains! I was to give up the stage and live in the midst of nature, perhaps in a tent!" [3]  The other actors, musicians, and writers who went with them in 1876 were unprepared for reality, including the drought that thwarted their attempts to grow citrus fruits. They returned to Europe, but Helena and Karol stayed.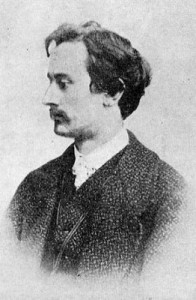 They needed money, and so, putting aside her overpowering homesickness, Helena decided to make her American stage debut. The main thing standing in the way was her inability to speak English. It took months to conquer the language and to locate a manager willing to gamble on her, but when she did Helena Modjeska was an instant success. Californians loved her. She embarked on a lengthy nationwide tour which brought her such spectacular fame that she sailed across the Atlantic in 1880 and took Europe by storm.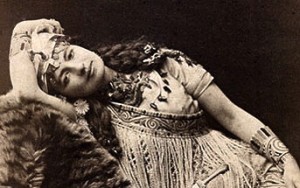 Modjeska was extraordinarily hard working. She drove herself to give eight performances a week. Accompanied by Karol—known as Count Bożenta—she played for and met with fans everywhere—from Des Moines, Iowa, to the best houses in New York. She remained far and away Poland's most famous and best-loved actress, but she soon became America's too. While she was especially acclaimed for her interpretations of Shakespeare's heroines, her range was very wide. She played over 250 roles, from Frou-Frou, which Daisy loved, to Nadjezda, a title role that fellow-actor Maurice Barrymore wrote for her. Nadjezda was, according to Daisy's dear friend Abby, "not the most moral [play] in tone I ever saw and it is rather weak, but she does act grandly with out a particle of ranting from beginning to end…."[4]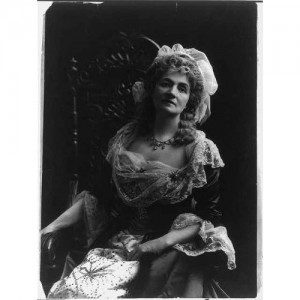 With her earnings, Helena and Karol purchased a home in Orange County, California, which Helena named Arden. Karol made a working ranch of it, growing citrus fruits and raising cattle. They commissioned the great architect Stanford White to design an addition to the extant building and they lived on the property from 1888 until 1906. Today the Modjeska House is a national historic landmark and museum open to the public.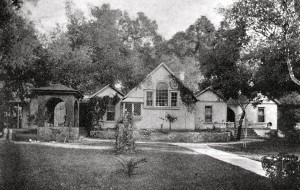 The couple maintained a house in Cracow and a country home in Zakopane, a village in the Tatra mountains in southern Poland. There, Helena found a way to help local girls earn a living by the works of their hands by opening a lace-making school. This was similar to what Daisy Low did for the rural girls who composed her first Girl Guide troop in Scotland.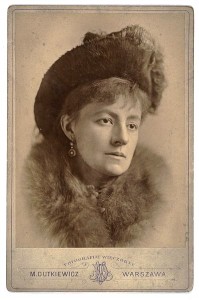 In 1893, in her early fifties–just about the age that Daisy was when she founded the Girl Scouts–Helena Modjeska bravely spoke out against the occupation and oppression of Poland.  She was, as she wrote, "trying to arouse the sympathy of the brilliant audience for our cause." [5] The result was a prohibition by the Russian government on her ever entering any part of Russian-controlled Poland again. [6] Helena Modjeska died in 1909 in California, and was buried in Cracow, where Poles hailed her as a hero and an artist of the highest calibre. While her husband and her son survived her, Modjeska's real legacy is in the hearts and minds of all those who saw her perform so brilliantly—including the young and impressionable Daisy Low.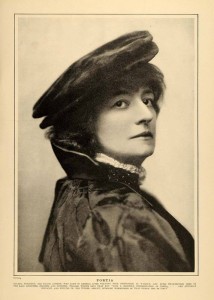 ---
[1] Juliette Gordon Low to Nellie Kinzie Gordon, 27 October 1878, Georgia Historical Society, MS318/14/142, Savannah, Georgia.
[2] Jameson Torr Altemus
, Helena Modjeska 
(New York:  J.S. Ogilvie, 1883), 25.
[3] Helena Modjeska, 
Memories and Impressions of Helena Modjeska
 (New York:  Macmillan, 1910), 249.
[4]  Abby Lippitt Hunter to Mary Grace Clarke, 30 March 1884, Clarke Family Papers MS2800/6/12, Cornell University, Ithaca, New York.
[5] Modjeska, 513.
[6] "Helena Modjeska Dead at 65 Years," 
New York Times
, 9 April 1909.
For more information see www.modjeskasvoice.com, www.helenamodjeskasociety.com, and http://ocparks.com/modjeskahouse. Ralph Modjeska became an engineer and settled among the large Polish-American population in Chicago, Illinois.
Photos of Count Bozenta, Modjeska as Viola, and Arden from www.josephhayworth.com. Photos of Modjeska as young woman and with head to the side from http://www.helenamodjeskasociety.com. Other photos from wikimedia or ebay.