Last week I wrote about how Juliette "Daisy" Gordon Low, the founder of the Girl Scouts of the USA, personified courage. "Courage" is the first trait that Girl Scouting today hopes to encourage in its members, according to the Girl Scout mission: "Girl Scouting builds girls of courage, confidence, and character, who make the world a better place." (1) This week, I want to consider the role of the second trait, confidence, in Juliette Gordon Low's life.
It was not a woman's characteristic, confidence–not in that era. Juliette Low was born in 1860 when society prized women who were, as historian Barbara Welter famously put it, "pious, pure, domestic, and submissive." (2) While the Civil War loosened some of the strictures of a woman's life, the changes occurred more slowly in Georgia, Juliette's home state. Even though she was schooled for a time in New York City, Juliette knew that the goal of every "true woman" of her class and race was to marry and be a good wife and mother. She should not contradict or challenge her husband, nor encroach upon his territory–government, the professions, the military, finance, leadership in most churches. Instead, she should seek to please him, bending her will to his, and creating a peaceful home in which he could shelter from the amoral and capitalistic world of work. Women were honored when they were demure, cheerful, resourceful, kind, compassionate, and thoughtful–but not confident. Confidence smacked of brashness and self-promotion. That was decidedly unfeminine.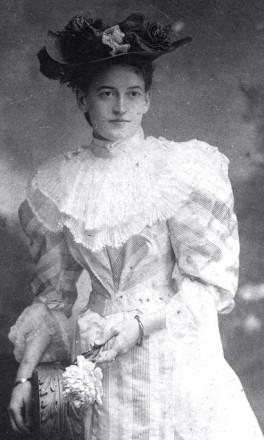 By the time she was a young woman, some of these societal expectations had begun to lose their grip…just barely. More women were attending college by the time the nineteenth century gave way to the twentieth, and more were involved in charitable works outside the home. There were some respectable jobs for women, primarily teaching. Most women were confident in their abilities to raise children, run a household, or provide care to ailing neighbors. Yet these areas are exactly where Juliette Low felt the most insecure. As she was unable to bear children* and her marriage tumbled toward divorce, her confidence in herself sank lower and lower. She knew she had failed at the most important tasks of being a woman.
Yet, as Eleanor Roosevelt would later put it, "You gain strength, courage, and confidence by every experience in which you really stop to look fear in the face. You are able to say to yourself, 'I lived through this horror. I can take the next thing that comes along.'" It was her husband's infidelity that prompted Juliette Gordon Low to assert herself. He had expressed his disdain for female busybodies who dirtied their hands working with the poor and the oppressed. So when his betrayal became clear, she did just that. Juliette volunteered her time with the Camberwell Working Girls Club in downtown London. It was less a desire for revenge than it was being true to the ideals of her upbringing. But through her efforts on behalf of these poor, inner-city girls, Juliette Gordon Low met different people and grew more confident in her abilities to manage on her own.
Thus, when she was widowed (her husband died before the divorce was settled), Juliette took off on world travel, picked up her art again, and searched for something that would allow her to feel that self-satisfaction that came with good work–the satisfaction she felt with the Camberwell girls, or with the invalids she assisted in the hospital during the Spanish-American War that I mentioned last week.
Of course, Girl Guiding and Girl Scouting was the ultimate answer for her. With trepidation but with the certainty of her convictions, Juliette Gordon Low embraced Girl Scouting. She knew the feeling of doing important work and she was unafraid to fail, because she knew how to pick herself up and go forward. The early successes she experienced as a leader in her troops in the United Kingdom made her confident in her own abilities. The positive changes she saw in the lives of the girls made her confident in the worth of Girl Guiding. And as her commitment deepened, she networked with other leaders in  Great Britain. She and the founder of Boy Scouting, Robert Baden-Powell, were dear friends. She was close to his sister, Agnes Baden-Powell, who was in charge of the Girl Guides.
Success begets confidence, and while there were moments of chaos and concern in the early days of Girl Scouting in the U.S., Juliette Gordon Low never looked back. It was a confident and experienced woman who announced the creation of those first Georgia troops in 1912. Even though she had been born in an era when women were supposed to be docile helpmeets for men, Juliette Low had grown into a self-assured woman. She did not let the tribulations of life conquer her. And when she saw that Girl Scouting gave girls a place to learn self-confidence from the acquisition of skills and knowledge–not by having to overcome life's sorrows–she knew she had to promote such a program.
Juliette Gordon Low gained confidence from Girl Scouting, just like every other Girl Scout did. That was a program worth dedicating her life to–and she did. And so confidence as a trait featured in today's mission of the Girl Scouts is just perfect, reflecting as it does the personal growth of Girl Scouting's founder.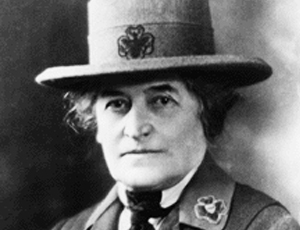 Next week: character.
___
*Or perhaps her husband was incapable of fathering children.
(1) The mission can be found on the website of the Girl Scouts of the USA.
(2) Barbara Welter, "The Cult of True Womanhood, 1820-1860," American Quarterly, 18:2 (Summer 1966), 155.
Photos courtesy of the Juliette Gordon Low Birthplace, Savannah, Georgia.