Juliette Gordon Low was nothing if not enthusiastic. And she loved to involve those dear to her in her enthusiasms. This was an outgrowth of her gregarious nature, but often she saw teachable moments, especially for young people.
It should come as no surprise then, that her niece, Alice Gordon Parker, the daughter of Eleanor Gordon Parker and Wayne Parker, recalled assisting her "Aunt Daisy" with the famous gates Juliette Low made for the Wellesbourne House in Warwickshire, England:
"[W]hen I was twelve years old I helped her to cut from sheets of copper the flowers and leaves to decorate those gates. The edges were filled; veins were made by hammering them over a grooved instrument; then they were shaped and bent on an anvil. I think I could make them again now, so well was the lesson learned thirty years ago."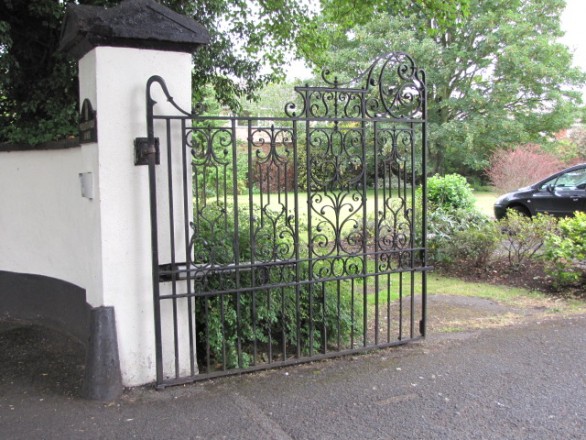 Juliette Low encouraged Alice in her love for art, and Alice did grow up to be an artist in her own right. If you visit the Juliette Gordon Low Birthplace in Savannah today, you will see a pair of portraits of Nellie Kinzie Gordon and William Washington Gordon II, Juliette's parents (Alice's maternal grandparents) painted by Alice in 1910.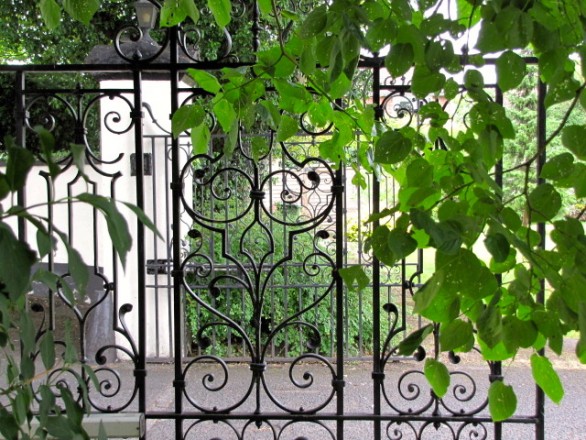 Alice was effulgent in her praise of Daisy. She appreciated that her aunt left a peaceful, regulated life in England to enter willingly into the chaos of creation connected to the launch and growth of Girl Scouting in the U.S. She believed that one of her aunt's best qualities was the "ability to put herself in another's place." And by "another," Alice meant adults, children, and animals.
Of course, Juliette Low's goodness to animals is well known, but Alice tells the story of the time her aunt was desperate to find a home for some dogs. Juliette cunningly sent a crate full of five adorable puppies to her sister Eleanor's home. The collies arrived just as a dinner party was underway. Even though Eleanor protested mightily to the delivery man, the guests begged her to let Alice and her young sisters see the puppies. In the middle of the oohs and aahs, cuddles and kisses, Juliette appeared. Of course, the puppies all had homes from that moment on!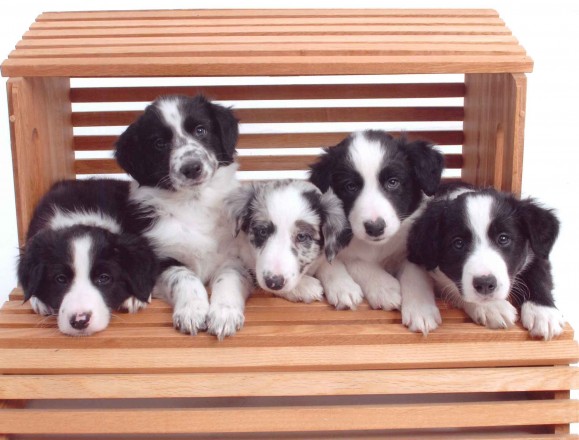 Alice summed up her Aunt Daisy: "Hers was a constructive love, a constructive energy, a constructive ideal. It was not only a particular person's happiness that she wanted…it was everyone's. She was as much tormented by the unhappiness of the world as by that of someone near and dear to her….
"Juliette Low knew what it was to be unhappy. She knew what it was to have others fail her. But that did not shake her faith in people or in life. Instead she turned the strength forged by suffering to noble use. She realized that pain endured gives one the power of accomplishment. Not only does it allow us to reach the sufferings of others; it actually endows us with the capacity to surmount obstacles….
"That is faith. Juliette Low had faith. It was through her faith and her courage that she was able to accomplish a great and lasting work."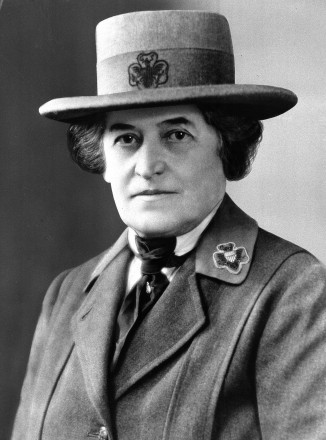 ____
All quotes from "Juliette Low," n.a., n.d., "Juliette Gordon Low–Biographical Info" File, National Historic Preservation Center, GSUSA, New York. The remembrance is almost certainly by Alice Gordon Parker Hoyt, and the "received" stamp from the GSUSA reads 21 July 1942.
Alice was born in January 1885. If her memory was correct, then Juliette Gordon Low made the Wellesbourne gates in 1897.
Photo of gates taken by author; puppies from /www.borderstorm.co.uk/Puppies.htm; Juliette Low photo from the Athens Banner-Herald http://onlineathens.com/local-news/2012-04-26/obama-awards-girl-scouts-founder-posthumous-medal.