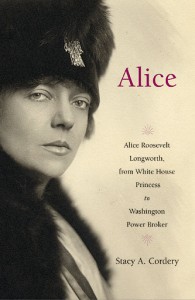 ORDER NOW:
Amazon
Barnes & Noble
Indiebound
Alice Roosevelt Longworth, from White House Princess to Washington Power Broker
Alice Roosevelt Longworth occupied center stage in the political and social life of the nation for seventy years. This marvelous biography rests on the discovery of an enormous collection of privately held and previously unknown letters, scrapbooks, diaries, speeches, and photographs belonging to Alice Roosevelt Longworth.
Thanks to the generosity of her family members, Alice is the first book to delve beyond the well-known witticisms and consider the breadth of Alice Longworth's passions. Alice explores the multidimensional woman whose intelligence and charm brought politicians, authors, scientists and civil servants together around her table.
Her fame began as the twentieth century opened when she swept into the White House as the fabulous and sophisticated First Daughter. Americans copied her dress and actions, named babies after her, and gathered in crowds wherever she went.
In 1906, the nation celebrated her storybook wedding to Ohio congressman Nicholas Longworth. By 1912, Alice Roosevelt Longworth had become a sounding board for her father's third-party presidential bid as Theodore Roosevelt tried to recapture the presidency—which would have made her First Daughter again. That attempt failed, but Alice learned to love the political game, even as her politician husband turned his attentions to other women.
Leading the successful charge to defeat the League of Nations in the Wilson era, Alice fell in love with Senator William Borah and the two powerful figures carried on a lengthy affair. Unalterably opposed to the policies of her cousins Franklin and Eleanor Roosevelt, Alice spent the New Deal years publicly criticizing them and solidifying both her position as the Republican Roosevelt and the capital city's greatest wit.
Her famous salon bridged Washington's two worlds and "Mrs. L" was everyone's favorite dinner partner—including John F. Kennedy and Richard Nixon. Alice explains how the shy and private woman and her intellectual interests captured America's imagination and earned her the nickname "the other Washington monument."
Reviews
New York Times Notable Book, 2007
Book-of-the-Month Club
History Book-of-the-Month Club
"This absorbing, magnificently complete biography, the first to be written based on Alice's own papers, presents her as the first female celebrity of the twentieth century. What that meant in terms of how she viewed herself and how she was viewed by her famous father and an adoring public is explored in Cordery's impressively astute psychological understanding of this quite complex personality."
—Booklist starred review

"Cordery pens an authoritative, intriguing portrait of a first daughter who broke the mold."
—Publishers Weekly

"In a country that professes to repudiate royalty but has a soft spot for it anyway, Alice Roosevelt was a princess if not a queen."
— Jonathan Yardley, The Washington Post

"A fine biography of America's ultimate–and eminently quotable–bad girl. Stacy Cordery has fixed Alice Roosevelt Longworth on the page in all her vibrant color."
— Pulitzer Prize winner Stacy Schiff, author of Cleopatra

"One of the most entertaining and educational books of the past year, Alice is proof that scholarly biographies need not be dull—and that popular biographies need not be frivolous. It's a book its subject may well have relished, and one its readers will finish with regret." —Richmond Times-Dispatch

"A superb biography of one of twentieth century America's most interesting and significant figures. At its best political biography explores the ways in which an individual's psychology, circumstance, education, and experience affect and reflect public life. In this graceful, insightful chronicle of the life of Alice Roosevelt Longworth, Washington's incomparable 'Mrs. L,' Cordery has done just that."
—Randall Woods, author of LBJ: Architect of American Ambition

"With graceful prose commanding diction and psychological acuity, author Stacy Cordery…follows the fortunes of Alice Roosevelt Longworth in this absorbing and rigorously researched biography…Cordery lends valuable but cautions psychological insights to all the climactic events in Alice's life—disappointments, weddings and the death of family members and friends. Most important, she takes a woman most remembered for her one-liners and, for the record, details her considerable contributions to U.S. politics and discourse." —Star Tribune (Minneapolis)

"With her unprecedented access to Alice Roosevelt Longworth's correspondence, Stacy A. Cordery has recreated a vivid picture not only of the woman who was for a time America's princess, but also of the American Century. Meticulously researched and recounted in lively and evocative prose, Alice sheds new light on TR's White House, the growth of the modern cultures of celebrity and teenage rebellion, the backroom politics and social skirmishes of the nation's capital, and inter-war isolationism and postwar anti-Communism. At the center of it all sits the inimitable Mrs. L, that other Washington Monument, whose life, loves, enthusiasms and losses Cordery illuminates with a subtlety never before possible. Alice is as delightful as it is eye-opening to read."
—Amanda Smith, author of Newspaper Titan: The Infamous Life and Monumental Times of Cissy Patterson

"It is to Cordery's credit that she puts her subject in the context of the times, so that one can understand the public's indulgence and sympathize with a woman who felt abandoned most of her life…She writes with flair worthy of her subject."
— The Providence Journal

"Finally—a biography of Alice Roosevelt Longworth that presents her in full and takes her seriously as a player in Washington politics across seven decades and thirteen presidencies. Admirably researched, perceptive, and as much fun as Mrs. L herself, Alice adds scope and depth to our understanding of Washington's mores, the inner workings of the American political machine, and the endlessly captivating clan from which she came."
— Patricia O'Toole, author of When Trumpets Call: Theodore Roosevelt after the White House

"The best aspect of Alice is the portrait it presents of a long-vanished Washington where politicians from both parties would work out solutions at social events brilliantly orchestrated by their social lioness. Until her death at ninety-six in 1980, she reigned as 'the other Washington monument.' …For interested readers, it offers a wealth of insight into the politics and culture of twentieth-century America." —USA Today

"I can't remember the last time I so enjoyed a biography—and learned so much. Stacy Cordery has painted a wondrously vibrant portrait of one of America's most complicated and intriguing woman, Alice Roosevelt Longworth. Daughter of President Teddy Roosevelt, cousin of Franklin and Eleanor, wife of the Speaker of the House, lover of the Senator from Idaho, columnist, wit, political savant, Republican booster, and the most esteemed Washington hostess of her era, Alice has been missing from our history books for far too long. Our thanks to Stacy Cordery for bringing her back, center stage, where she belongs."
—David Nasaw, author of The Chief: The Life of William Randolph Hearst

"Cordery fully utilizes the personal papers of Alice Roosevelt Longworth (1884-1980), frequently inserting entries from her diary and letters to provide startlingly intimate material…A rigorous portrait of a woman of strong opinions who surely should have run for office herself. Promises to revive the old dame's reputation."
— Kirkus

"At long last, Alice Roosevelt Longworth has the biography that she has needed. Her life reads like a Cinderella story, except that the stepmother became one of her best friends as well as severest critics, Prince Charming turned out to be something of a rotter but able and loyal in his own bizarre way, and a rough diamond of a lover hovered in the wings and fathered her only child. With insight, sympathy, a critical eye, and prodigious research, Stacy Cordery has produced a portrait of America's one true political princess and one of the most important and fascinating women ever in the country's public life."
—John Milton Cooper, Jr., E. Gordon Fox Professor of American Institutions, University of Wisconsin
All Books:  Juliette • Alice • Theodore Roosevelt • Theodore Roosevelt Historic Photos