Welcome
On this website you can read and see more about Stacy A. Cordery's newest biography, Juliette Gordon Low: The Remarkable Founder of the Girl Scouts, connect with Stacy on facebook and twitter, learn how to contact her to schedule a talk or book signing, and find out more about her speaking engagements and other appearances. You can also discover a bit about Stacy and her earlier books, and read about Juliette Gordon Low on her blog. She is always glad to hear from you!
Chosen one of "This Winter's Biggest Books," by USA Today

Selected as the Christian Science Monitor's "Twenty Non-Fiction Books to Watch for in 2012"

The Wall Street Journal said, "The merit badge here goes to Stacy Cordery's biography: Even if Juliette Gordon Low had never met Gen. Baden-Powell or set foot in a Girl Scout troop meeting, we now know, her life still would have offered plenty to fascinate."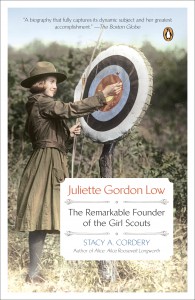 NOW in Paperback at Amazon!
Barnes & Noble
IndieBound
Books A Million
Read more about Juliette Gordon Low
by Stacy A. Cordery.